Vince Lujan - guitars, vocals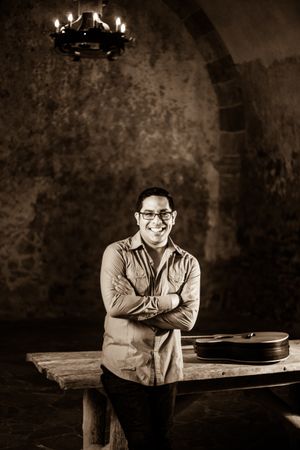 Vicente (Vince) Lujan is a bilingual liturgical musician and praise and worship leader. He has served as Coordinator of Youth Ministry at St. Thomas Aquinas in Pilot Point, as Youth Music Coordinator at St. Monica in Dallas & as Associate Youth Minister at Mary Immaculate in Farmers Branch, Spanish Music Coordinator at St. John the Apostle in Ft. Worth and most recently as Coordinator of Youth Ministry at St. Michael's in McKinney, TX. Through his work as a parish youth minister, workshops, presentations, professional musician at live music concerts and liturgies he has invited people to build and cross bridges that span the gap between the English and Spanish speaking communities within the church. Vince attended the University of North Texas where he majored in Jazz Studies and lives with his wife Charity and daughters Elena and Violet in Denton, TX.

There has always been music in the Lujan house. As a child, Vince first stumbled upon someone playing guitar at a studio where his mother played piano. Immediately drawn to the instrument, he began taking lessons in classical guitar. After two years, the studio closed and Vince studied on his own, immersing himself in classic rock n' roll, tejano and latin music on the home radio. He listened closely to the styles of Chuck Berry, Buddy Holly, Ritchie Valens, and the early Beatles. He maintained and improved his guitar skills by joining local church choirs. There he also began to develop his own style of vocal improvisation. He joined the band programs in junior high and high school, where he played the trombone. These experiences inspired Vince to form his own music groups, including Dead End Street Music, Natural Wood Finish, and Top Brass. At this time, he also began to compose songs and further develop his singing talent, in addition to learning the harmonica. Playing the trombone, he participated in jazz ensembles throughout high school and college. By this time, Vince's guitar influences had changed to blues artisists, and he spent time emulating the styles of Eric Clapton, Stevie Ray Vaughn, Carlos Santana, and most of all, the Dave Matthews Band. In the summer of 2000, Vince enrolled at the University of North Texas.