Manuel Bravo - guitars, vocals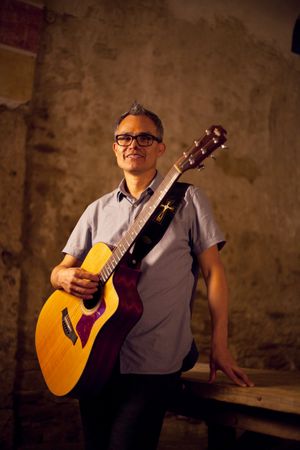 A native of San Luis Potosi, Mexico, Manuel began exploring music at age 6 with homemade instruments.

He studied music throughout school and played a real guitar to entertain his friends in high school. Manuel studied composition and played in a successful musical group called "Armonia 5" that competed at the state level. Manuel was also involved in several choirs at his local parish, and he says that his experiences with singing and playing Christian music for the church have had a real impact on his life.

At the age of 25, Manuel came to Denton, Texas and began volunteering at Immaculate Conception Catholic Church. With the support of friends and family, he now leads a Spanish music group that plays at one of the weekly masses.

He continues to compose music and regularly performs at weddings, quinceañeras, and other community events.


Originario del Estado De San Luis Potosí, en México; radico en la Ciudad de San Luis Potosí hasta la edad de 25 años.

Inicio a al edad de 6 años explorando la música con guitarras hechas de cartón y latas vacias de reciclaje debido a el estado financiero familiar. Con suerte continuo estudiando la preparatoria, donde comenzo a tocar una guitarra de verdad que pertenecia al Colegio de Bachilleres, ingreso al grupo musical de la misma teniendo diferentes roles: la Rondalla Colegio De Bachilleres Plantel 25, Composicion; representando al colegio a nivel Estatal y participe tambien de un grupo de guitarras bajo y tres voces llamado Armonia 5.

A su misma vez era integrante del Coro Peregrinos de la Luz y Coro de La Paz de su comunidad y de una comunidad cercana. Despues de conocer experiencias agradables en los coros a los que  asistia, la musica cristiana catolica ha tenido una repercucion especial en su vida personal.

Inmigrando a los E U A teniendo 25 años de edad y muchos deseos de superacion personal, llego a la Ciudad de Denton, TX a trabajar, a su vez se enrolo en la comunadad de la Iglesia Inmaculada Concepcion participando en el coro de misa en español los Sabados 6:00 pm. Bajo la direccion de Vicente Lujan.

Despues recibe el cargo de Voluntario para dirigir mismo coro, cargo que hasta la fecha conserva con apoyo de amigos y su Familia.